Hey there! Some links on this page are affiliate links which means that, if you choose to make a purchase, I may earn a small commission at no extra cost to you. I greatly appreciate your support!
Hi there, music enthusiasts! Are you looking for a fantastic guitar brand that combines a rich heritage, excellent craftsmanship, and amazing sound quality? Look no further than Eastman! In this article, we'll dive into the captivating world of Eastman Guitars, exploring their history, craftsmanship, range of models, and more. As an affiliate blog, our goal is to help you make an informed decision and discover the perfect guitar for your musical journey.
History and Background of Eastman Guitars
Let's go back in time to when it all started. Founded in 1992, the brand quickly gained a reputation for producing high-quality instruments. Inspired by the traditional craftsmanship of stringed instruments, Eastman values attention to detail and a deep appreciation for the art of guitar making. Over the years, they have achieved remarkable milestones, earning recognition and respect within the music industry.
Quality and Craftsmanship of Eastman Guitars
When it comes to quality, Eastman leaves no stone unturned. Each guitar undergoes meticulous craftsmanship using premium materials, ensuring exceptional sound and playability. From the choice of tonewoods to the precise construction process, Eastman exemplify unparalleled craftsmanship. The brand takes pride in their handcrafted approach, resulting in instruments that resonate with warmth, clarity, and a distinct character that musicians crave.
Types of Eastman Guitars
Whether you're a beginner, an intermediate player, or a professional musician, Eastman offers a diverse range of models to suit your musical preferences. They have the Traditional series, known for its vintage-inspired designs, and the Contemporary series, which offers a modern twist. With unique features and tonal qualities, each series allows musicians to find their perfect match based on genre, playing style, and personal taste.  Eastman offers many different models of acoustic, electric and base guitars. Eastman makes too many different guitars to review them all here. But let's take a look at a model in each of category.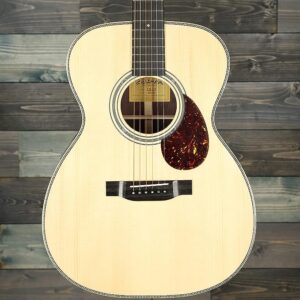 The Eastman E20OM is a high-quality acoustic guitar modeled after the iconic Orchestra Model (OM) design, known for its articulate and full-bodied sound. Appreciated for its solid rosewood and Adirondack spruce construction, it's particularly suited for fingerpicking styles and provides a well-balanced tonal output.
First things first, the E20OM is a nod to those iconic OM or "Orchestra Model" guitars that have made their mark in music history. It's got a top made of solid adirondack spruce and solid rosewood on the back and sides. This combo gives it a full-bodied and balanced sound. From those rich low tones to the crisp highs, the E20OM handles it all like a pro. It really shines when you're fingerpicking, but don't be afraid to strum it hard – this guitar can keep up!
Now, let's talk about how it's made. Eastman is known for its handcrafted guitars, and the E20OM is no exception. It's put together with a level of care and attention to detail that you just don't see every day. This not only means you're getting a guitar that looks great, but one that feels great to play, too. The solid wood construction is a big part of that, adding to both the sound quality and the overall durability of the guitar.
So, there you have it! The Eastman E20OM is a well-rounded, versatile acoustic guitar that gets high marks for both sound and construction. It's got a charm that's all its own, and it definitely earns its spot as one of Eastman's most popular models.
You can see detailed reviews of many different Eastman Acoustic Guitars here.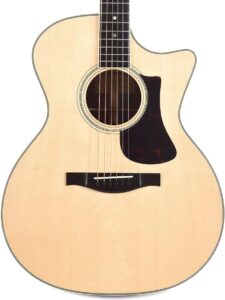 The Eastman AC322CE is a grand auditorium-style acoustic-electric guitar known for its balanced sound, comfortable playability, and quality electronics. Made with a solid Sitka spruce top and solid mahogany back and sides, it's perfect for performers who require the flexibility of a high-quality pickup system for both acoustic and amplified performances.
The AC322CE takes center stage with its grand auditorium style – it's the perfect size, not too big and not too small.
Solid Sitka spruce makes up the top of the guitar, while solid mahogany forms the back and sides. This mix produces a well-balanced sound, ideal for a broad spectrum of music styles. You'll find it's got a strong voice that's just as at home strumming chords as it is picking out melodies.
But what's the electric part all about? Well, this guitar has a high-quality pickup system. This means you can plug it into an amplifier or sound system and share your music with a larger crowd. It's really handy if you're playing a gig or even just jamming with friends. The pickup system keeps the guitar's natural sound intact, so even when you're plugged in, it still sounds like your favorite acoustic guitar.
Craftsmanship matters a lot, and with the AC322CE, Eastman delivers. You can feel the attention to detail and quality the moment you pick it up. And that's not just in how it sounds, but also in how it feels when you play it. Comfortable and easy to play, it's like the guitar is inviting you to make music!
The Eastman SB59/v is an electric guitar that expertly captures the essence of a vintage solid-body instrument, closely echoing the classic Gibson Les Paul in both design and tone. Equipped with two Seymour Duncan Antiquity humbuckers, it offers a rich, rounded sound and the high-quality craftsmanship Eastman is known for.
Imagine you're holding a guitar that looks and feels like a vintage Gibson Les Paul. Pretty cool, right? That's the SB59/v for you. It has two Seymour Duncan Antiquity humbuckers – those are the things that pick up the vibrations from the strings and turn them into the electric sound you hear. They give the guitar a rich, rounded sound that's great for everything from blues to rock.
But the sound isn't the only thing that's great about this guitar. Eastman is known for the quality of their instruments, and the SB59/v is no exception. You can see it in the beautiful finish, feel it in the smooth neck, and hear it in every note you play. It's not just a guitar, it's a work of art.
This guitar also shines when it comes to playability. It has a solid body that feels good to hold and a neck that's comfortable for all kinds of playing styles. Chords, riffs, solos – this guitar can handle it all and make it fun!
You can see detailed reviews of many different Eastman Electric Guitars here.
Reviews and Testimonials
Eastman Guitars has received praise from numerous renowned musicians and performers across different genres. Let's take a closer look at some notable artists who trust and choose Eastman to deliver their signature sound:
John Pisano
The legendary jazz guitarist is known for his smooth playing style. He is a proud user of Eastman Guitars. His collaboration with the brand resulted in the creation of the John Pisano Signature model.  A beautiful instrument that captures the essence of his musical expression. Pisano's endorsement speaks volumes about the quality and craftsmanship that Eastman Guitars bring to the table.
Julian Lage
Julian Lage, a Grammy-nominated jazz guitarist, garners recognition for his virtuosic playing and innovative approach to music. He favors Eastman Guitars for their exceptional tonal qualities and playability. Lage's endorsement showcases his trust and highlights Eastman's ability to meet the demands of even the most discerning and technically proficient musicians.
Frank Vignola
Highly accomplished jazz guitarist Frank Vignola has established himself as a prominent figure in the music world. His affinity for Eastman Guitars is evident in his performances and recordings. Vignola's endorsement underscores the brand's ability to produce instruments that can handle the intricacies and nuances of jazz guitar playing with ease and grace.
Andreas Oberg
Swedish guitarist Andreas Oberg is revered for his mastery of gypsy jazz and fusion styles. He has chosen Eastman Guitars as his go-to instrument for their exceptional craftsmanship and ability to capture the distinctive sound of gypsy jazz. Oberg's endorsement solidifies Eastmans' reputation as a brand that caters to the needs of diverse genres and playing styles.
Laurence Juber
Laurence Juber, a Grammy-winning fingerstyle guitarist and former member of Paul McCartney's band Wings, has built a long-standing association with Eastman Guitars. Juber's intricate fingerstyle playing demands an instrument that can deliver rich harmonics and clear articulation.  He finds exactly that in his Eastman Guitar. His endorsement serves as a testament to the brand's dedication to producing instruments that excel in fingerstyle and acoustic guitar performance.
These are just a few examples of the many artists who have chosen Eastman Guitars. From jazz to fingerstyle, these guitars have found their way into the hands of virtuosos who rely on them for their distinctive tone, playability, and versatility.
Many such esteemed musicians perform with Eastman Guitars. It's clear that the brand has earned the respect and admiration of professionals worldwide. When you play an Eastman Guitar, you're not only holding an instrument of exceptional quality but also joining a community of musicians who value craftsmanship, tone, and artistic expression.
Comparison with Competing Brands
Eastman Guitars stands out when compared to other well-known guitar brands. Their commitment to quality, handcrafted instruments, and attention to detail make them a top choice among musicians. Eastman Guitars' exceptional ratings and accolades within the industry further reinforce their dedication to customer satisfaction.
Where to Buy Eastman Guitars:
Now that you're eager to explore Eastman Guitars, let's talk about where to find them. You can discover a wide selection of Eastman Guitars at authorized dealers and reputable online platforms. To support our blog and continue providing valuable content, we've included affiliate links to recommended sellers. By using these links, you not only access a trusted source but also contribute to the sustainability of our blog. We believe in transparency and always provide full disclosure regarding affiliate links.
Summary
Eastman Guitars embody timeless craftsmanship.  They produce instruments that captivate musicians worldwide. With their rich history, unwavering commitment to quality, and diverse range of models, Eastman Guitars offer a guitar for every player. So, take a step towards musical excellence. Let their exceptional instruments inspire your creativity and elevate your musical journey.
Whether you're a seasoned professional searching for that perfect sound or a beginner embarking on a musical journey, Eastman has something extraordinary to offer. Explore their extensive range, immerse yourself in the warmth of their tonewoods, and experience the meticulous craftsmanship that sets them apart.
Now, grab your pick and let the world hear the timeless melodies that flow through an Eastman Guitar. Visit our recommended links to find your dream instrument, knowing that each chord you play will resonate with the passion and dedication that went into its creation.