Hey there! Some links on this page are affiliate links which means that, if you choose to make a purchase, I may earn a small commission at no extra cost to you. I greatly appreciate your support!
Alright, so you're curious about Johnson Guitars? Great choice! Johnson has been around for quite a while, building a strong reputation in the music industry. Johnson, an AXL Musical Instruments company is known for it's diverse range of guitars. They've got something for everyone—from the newbie just picking up the guitar for the first time to the seasoned musician looking for a new sound. We're going to dive deep into the world of Johnson Guitars taking a closer look at what makes them tick. We'll be exploring different models across their series to help you find the one that's just right for you. So sit back, relax and let's get started!
Quick Overview of Johnson Guitars
If you've ever walked into a music store or browsed online for a guitar, you might have noticed that there are literally thousands of options to choose from. But Johnson Guitars, they've got a certain charm that sets them apart. They're all about creating instruments that players of any level can pick up and play with ease.
Johnson crafts a wide range of guitars and that's what we love about them! Johnson Guitars cover your needs with a range from acoustic to electric, offering thin body guitars for comfortable live performances and resonators that bring your blues to life. But it's not just about the variety.
The beauty of Johnson Guitars is in the details. They've earned a thumbs-up for their robust construction and value for money, but they don't stop there. Many of their guitars also have unique features that are typically found on pricier models—things like adjustable truss rods and enclosed machine heads.
In short, Johnson Guitars have put a lot of thought into their offerings, ensuring that each of their guitars brings something special to the table. Stick around as we delve into some specific models and series. Trust us, it's going to be interesting!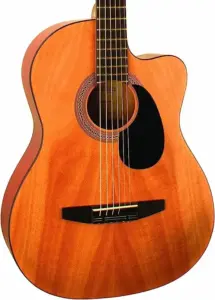 The Johnson JG-100 is a budget-friendly guitar perfect for beginners, offering a full-bodied, resonant sound uncommon in its price range. It features a sturdy catalpa body and neck, and its playable design makes it an excellent choice for those starting their musical journey.
First up, let's talk about the JG-100 Series, specifically, the JG-100 Student Acoustic Guitar. It's like the buddy who's always there to help you out when you're just starting on your musical journey.
The JG-100 is an acoustic guitar that's made for the beginner, but don't be fooled by its simplicity. This guitar offers reliable performance that won't let you down. It sports a classic dreadnought shape, which is known for its versatile and powerful sound.
While some beginner guitars can sound a bit dull, the JG-100 surprises with a bright and full tone that's great for a variety of music styles. Its smooth neck makes it easy to play, and it has a durability that will see you through those initial learning stages and beyond.
Not to mention, the JG-100 is also quite a looker! It comes with a glossy finish that gives it an elegant vibe. Learning the guitar can be challenging, but the JG-100 makes the process fun and rewarding. It's the kind of friend every budding guitarist needs! Now, let's move on to another series that Johnson offers.
The Johnson JG-610 is an affordable, yet high-quality guitar that suits both beginners and experienced players. With its solid spruce top and basswood back and sides, it delivers a bright, full sound and is a go-to instrument for a variety of musical genres.
Alright, next up on our journey through Johnson's lineup is the JG-600 Series, and we're putting the spotlight on the JG-610 Player's Acoustic Guitar. This guitar says, "I've got your back, pal," when you're ready to take your guitar playing to the next level.
The JG-610 Player's Acoustic, as the name suggests, is designed for the committed player. It's a step up from the beginner models, offering features and sound quality that appeal to more seasoned guitarists.
The JG-610 is a full-sized dreadnought that means business. With a spruce top and mahogany back and sides, this guitar serves up a robust, balanced tone that can stand up to energetic strumming or delicate fingerpicking. Its die-cast tuners help keep your tuning stable, so you can play on without missing a beat.
Additionally, the JG-610 sports a sleek high-gloss finish, making it not just a treat for the ears, but for the eyes as well. This guitar is ready to accompany you on your musical journey, no matter where it takes you.
The Johnson JG-650 Thinbody Acoustic Guitar features a slim body profile that's easy to handle, ideal for live performances or musicians who prefer a lighter, more maneuverable instrument. Its combination of a spruce top and mahogany back and sides gives it a well-balanced tone.
The JG-650-TN Player's Acoustic Guitar from the JG-650 Series is a delightful blend of quality, comfort, and affordability. This thin-body acoustic/electric guitar is a perfect companion for both live performances and intimate jamming sessions.
Packed with features that cater to the seasoned musician, the JG-650-T comes equipped with a spruce top and rosewood fingerboard. The body resonates with a bright, well-rounded tone that can cater to various music styles with ease.
On the electronics front, it comes with an onboard preamp and tuner, making it performance-ready right out of the box. You can tweak your sound on-the-go and stay in tune, no matter where you're playing.
With its slim profile and cutaway design, the JG-650-T ensures comfortable playability, allowing easy access to the upper frets. It's an instrument that promises to keep up with your musical explorations, no matter how far they take you.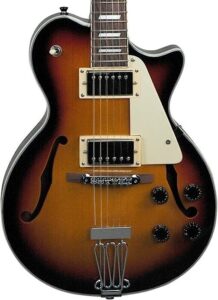 The Johnson JH-100-S Delta Rose, in an eye-catching sunburst finish, boasts a spruce top and mahogany body, providing a rich, warm tone that resonates with depth. The comfortable mahogany neck adds to its playability, making it an excellent choice for musicians looking to bring a distinctive sound to their performance.
Now let's turn the volume up and step into the world of electric guitars with Johnson's JH series, specifically the JH-100-S Delta Rose Sunburst Electric guitar.
The JH-100-S Delta Rose isn't just any electric guitar – it's a show-stopper with its distinctive Sunburst color, which adds a bold aesthetic that musicians of all levels can appreciate. The design is all about making a visual impact, just as much as it is about delivering stellar sound.
But this guitar isn't all looks – its sound is equally as impressive. With a spruce top and mahogany body, the Delta Rose produces a robust sound that's perfect for various musical styles including pop, rock, country, blues, bluegrass, and jazz. It boasts a balance between warmth and brightness, perfect for that crunchy rhythm or soulful lead.
This guitar features a set mahogany neck and a rosewood fretboard, which not only adds to the instrument's aesthetic appeal but also provides a smooth, comfortable playing experience. The 24-5/8″ scale length offers a balance of comfortable playability and tonal clarity.
Making your music heard is a breeze with the dual Alnico humbuckers. These powerful pickups provide a strong, smooth, and very versatile tone that can be shaped to fit almost any musical style. Plus, with the tune-o-matic bridge system, your intonation will always be spot-on, making your playing experience all the more rewarding.
Johnson Guitars Conclusion
Navigating the world of Johnson Guitars is like walking through a musician's wonderland. Each series, from the budget-friendly JG-100 to the electrifying JH-100-S Delta Rose Sunburst, presents unique features and a distinct charm. All levels of musicians can find something to love here.
Starting with your first chord or commanding a grand stage, a Johnson guitar can be your trusty companion. They're crafted to inspire and built to last. So, grab a Johnson, and let the melodies take you on an adventure. In life's grand orchestra, your music plays a crucial part, and Johnson Guitars are here to amplify your sound.