Hey there! Some links on this page are affiliate links which means that, if you choose to make a purchase, I may earn a small commission at no extra cost to you. I greatly appreciate your support!
Alvarez guitars are a popular choice among musicians globally. They're known for their high-quality construction, which becomes evident as soon as you hold one. The feel of the strings under your fingers? Quite smooth, indicating their attention to detail. The sound they produce? It's clear and rich, hinting at the guitar's excellent acoustics. All in all, when it comes to guitars, Alvarez seems to be a solid option worth considering.
Alright, get ready because we're about to dive into the world of Alvarez guitars. We're going to chat about the 7 of the most popular guitars Alvarez has to offer. We'll check out their features, what makes them stand out, and why musicians think they're the bee's knees. So, strap in and prepare for a musical journey as we explore the fantastic world of Alvarez's top acoustic and acoustic-electric guitars. Let's get started, shall we?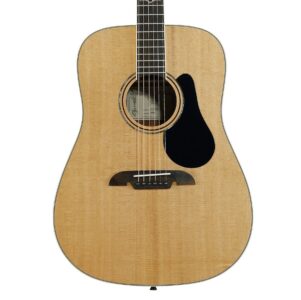 The Alvarez Artist Series AD60 is a versatile acoustic guitar that delivers rich, balanced tones and exceptional playability. With its solid spruce top, mahogany back and sides, and professional-grade features, it offers a high-quality instrument for both beginner and experienced guitarists alike.
What's unique about the AD60? Well, it has some design features that you'd usually find in much pricier guitars. Like the 'bi-level' bridge, which enhances the string break angle for better tonal performance. Plus, the bracing pattern (known as FST2) has been forward-shifted and scalloped to give the top more room to breathe and vibrate. These little tweaks add up to a big boost in volume and response​.
Now, let's talk playability. It's got a glossy top and a semi-gloss finish on the back, sides, and neck. This gives the guitar an earthy feel and makes moving around the neck a breeze. It's a full-bodied dreadnought, so it might feel a tad bulky with a strap, but nothing out of the ordinary for this style of guitar. And those chrome-colored tuners? They're robust and stable, even if they're not the smoothest on the market​.
The AD60 doesn't just look good, it sounds great too. Strum some chords, and you'll be met with a bold, punchy tone. The output is full and round, and chords carry good projection right up the neck. Single-note and solo work are easy thanks to the speedy neck profile. And fingerstyle playing? The tone is balanced, open, and rounded. In fact, it's so good that you might forget it's as affordable as it is.
Solid Sitka Spruce Top
Mahogany Sides
Bi-level bridge design
Great Value
Dreadnought design may feel bulky
Tuners not very smooth
Entry level guitar
The Alvarez Regent AF30 is an affordable and beginner-friendly acoustic guitar that doesn't compromise on quality. It features a spruce top, mahogany back and sides, and delivers a warm and balanced sound, making it a great choice for those starting their musical journey.
The Alvarez AF30 is a high-quality acoustic guitar characterized by several defining features. It features a solid A+ Sitka spruce top, a reputable choice of wood known for its ability to generate strong, clear tones. This guitar also has a mahogany neck and back, a construction choice that complements the spruce top, contributing to a well-rounded and full sound.
A standout feature of the AF30 is its meticulously crafted, hand-sanded, scalloped bracing. This design ensures a balanced response and optimal energy flow across the instrument, optimizing its tonal output while maintaining player comfort.
Another noteworthy aspect of the Alvarez AF30 is its advanced bi-level bridge, designed to improve string tension. This feature offers an enhanced playing experience, facilitating fast-paced music and simplifying string action.
This instrument is of a folk size, making it smaller and more portable than some alternatives. The size does not compromise on its versatility, and the AF30 is suitable for a variety of playing styles, ranging from casual bedroom practice to energetic jamming sessions.
Overall, the Alvarez AF30 guitar offers both aesthetic appeal and functional design, making it a suitable choice for musicians at various levels of proficiency. It combines sound construction with features that enhance playability and sound quality, resulting in a versatile, reliable instrument.
Solid A+ Sitka spruce top
Hand sanded, scalloped bracing
Bi-level bridge design
Portable, compact size
Good for various playing styles & skills
Smaller size nay limit sound projection
Not ideal for all music genres.
Lacks built-in electronics
Lack the high gloss finish some prefefr.
The Alvarez CC7 is a high-end classical guitar designed for professional musicians and advanced players. It boasts a solid cedar top, rosewood back and sides, and delivers exceptional tonal clarity, projection, and responsiveness, making it a top choice for classical guitar enthusiasts.
The CC7 Cadiz has a distinct teardrop shape, setting it apart from traditional guitar designs. This unique form not only enhances its visual appeal but also contributes to its comfort during play.
The CC7 Cadiz showcases several defining features that amplify its functionality. The hand-wound pickups provide a distinct tonal quality, delivering a sound that is both rich and full. This feature allows for a range of musical expressions, from soft melodies to robust riffs. Moreover, the high-grade tone knobs offer precise sound control, enhancing the player's ability to modulate the output to their liking.
This guitar exhibits versatility, catering to a diverse audience. The CC7 Cadiz can be utilized by both professional musicians performing in large venues and hobbyists who enjoy private jam sessions. Its adaptability extends to a variety of music genres, from rock to blues to country, making it a versatile tool in any musical repertoire.
In summary, the CC7 Cadiz guitar is an aesthetically pleasing and functionally versatile instrument. It integrates a unique shape with high-quality sound features, resulting in a guitar that is visually appealing, comfortable to play, and capable of delivering a rich range of tones.
Unique design attractive to some
Hand wound pickups deliver a rich sound.
Suitable for various genres and styles
High quality tone knobs allow for accurate sound modulation.
Slightly heavier than some models.
Higher price then some alternatives
Lack built-in electronics
Some special parts may be difficult to replace.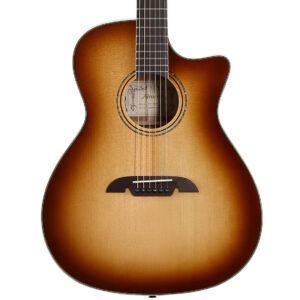 The Alvarez MG60CESHB is a versatile acoustic-electric guitar with a sleek and stylish design. Featuring a solid Sitka spruce top, mahogany back and sides, and a built-in pickup system, it offers a balanced and resonant tone, making it suitable for both stage performances and studio recordings.
Alright, so let's talk about this awesome piece of musical equipment – the Alvarez MG60CESHB guitar. Picture this: it has a fantastic 'Grand Auditorium' shape. That means it's a bit bigger than your usual concert-style guitar, and that size gives it a richer, fuller sound. But don't worry, it's still super comfortable to play, whether you're standing or sitting.
Now, here's something cool: it's made of solid African mahogany, top to bottom. So, you've got this guitar that not only looks stunning with its shadow burst finish but sounds amazing, too. That mahogany gives it a warm, full tone that can fill a room and then some.
And you know what else? It's got a cutaway – that's the notch you see in the body near the neck. What's that for, you ask? Well, it lets you reach the higher frets way easier, so you can play all those fancy solos you've been working on.
Oh, and here's the cherry on top: it's an acoustic-electric. That means you can play it just like a regular acoustic, or you can plug it into an amp and really crank up the volume. Whether you're strumming away in your living room or playing a gig for a crowd, this guitar's got you covered.
Sound Quality: With a solid African mahogany top, the MG60CESHB offers a warm, balanced tone.
Electronics: The Alvarez SYS250 3-band EQ with built-in tuner provides flexible, reliable amplified sound.
Aesthetic Appeal: The shadow burst finish gives it a distinct and appealing look.
Playability: The neck is designed for comfortable play, great for both strumming and fingerpicking.
Price: Given the solid top and quality construction, it offers good value for the price.
Tonewood: While the solid top is made of mahogany, the back and sides are layered mahogany, which might not deliver the same resonance as all-solid models.
Versatility: Its tone is well suited for folk, blues, and fingerstyle, but may not satisfy those looking for a more versatile instrument.
Preamp: Although the SYS250 is decent, it might not meet the expectations of professionals or advanced players looking for top-tier electronics.
Availability: As a more specific model, it may not be as readily available as other common models.
The Alvarez Artist Elite AGFM80CEARSHB is a high-end acoustic-electric guitar with a stunning appearance and exceptional craftsmanship. It features a solid African mahogany top, flamed maple back and sides, and a versatile LR Baggs pickup system, delivering a rich and articulate sound that suits a wide range of musical styles.
So, this guitar has a grand auditorium shape, which is a bit of a superstar in the guitar world. You see, this shape is a little smaller and more rounded than other shapes, like the dreadnought. This design is no coincidence—it's meant to produce a sound that's really balanced and clear. Whether you're all about fingerpicking or you're a strummer at heart, this guitar has the sound quality you're looking for.
Now, let's talk about the materials. The top of this guitar is made from solid A+ Sitka spruce, a type of wood that's very popular in the guitar world for its clear, resonant sound. Plus, it's strong and durable, so it can stand up to a bit of a beating.
The neck of this guitar is made from mahogany and it's got a rosewood fingerboard. These materials are not just pleasing to the eye—they create a warm, smooth sound when you play. Plus, they're comfortable under your fingers, making those long jam sessions even more enjoyable.
Sound Quality: The AGFM80CEARSHB boasts a solid top made of AA North Western Red Cedar and flamed maple back and sides, offering a balanced, vibrant tone.
Electronics: The LR Baggs StagePro EQ and Element Pick Up provide exceptional plugged-in sound and tonal control, ideal for stage performances.
Playability: The mahogany neck with Pau Ferro fretboard ensures a comfortable and smooth playing experience.
Aesthetic Appeal: The Shadowburst Gloss finish and exquisite detailing give the guitar a high-end, distinctive look.
Construction: The forward-shifted, hand-scalloped X bracing provides excellent structural stability and resonance.
Price: Compared to entry-level guitars, the AGFM80CEARSHB might be considered expensive.
Availability: As a specialized model, it may not be as widely available or in stock as more popular models.
Versatility: The specific tonal characteristics may not suit all styles of music.
Size: The Grand Auditorium size might be uncomfortable for smaller players or those who prefer smaller body shapes.
Maintenance: Like all solid-top guitars, it requires regular care and is more sensitive to changes in humidity and temperature.
Alvarez Artist AJ80CE JumboThe Alvarez Artist AJ80CE Jumbo is a powerful acoustic-electric guitar that offers a bold and commanding sound. With its solid Sitka spruce top, rosewood back and sides, and advanced LR Baggs Element pickup system, it provides a rich and resonant tone, making it ideal for players seeking a big, expressive sound.
Picture this: the Artist AJ80CE Jumbo guitar. It's a sight to behold, with a big, bold shape that can't be missed. Known as a jumbo guitar, it's a little larger than your regular guitars. Its body has a broader waist and a deeper depth. It's like a big brother to the standard dreadnought. So what does this mean for the sound? Well, let's get into that.
Because of its size, the AJ80CE Jumbo can really belt out a tune. The larger body shape helps it create a more powerful and resonant sound, giving your music an extra punch. If you're performing live, especially with a band, this guitar can hold its own. It doesn't shy away from the spotlight!
The AJ80CE isn't just about power, though. Its solid top is made from Sitka spruce, a high-quality wood known for its clarity and dynamic range. This means you can play both soft, mellow tunes and intense, high-energy jams with equal ease. Versatility is its middle name!
But there's more. This Alvarez guitar comes with a built-in pickup and preamp system, which makes it an "electro-acoustic" guitar. So, you can plug it into an amplifier or a sound system, giving you even more volume and control over your sound. Whether you're in a concert hall or a cozy coffee shop, the AJ80CE Jumbo has you covered.
Its design is just as impressive. With a sleek, natural finish, and a cutaway in the body, you can reach the higher frets with no trouble at all. The cutaway also adds a stylish touch, don't you think?
Sound Quality: The AJ80CE features a solid Sitka spruce top and maple back and sides for a bright, resonant tone with excellent projection.
Electronics: The LR Baggs StagePro EQ and Element pickup ensure high-quality amplified sound, making this guitar a good choice for live performances.
Playability: Alvarez's advanced scalloped bracing and slim neck profile make the guitar comfortable to play, regardless of your technique.
Aesthetics: The natural gloss finish, along with maple binding, gives it a premium, attractive look.
Value for Money: Given the solid top, quality construction, and reliable electronics, this guitar offers good value for its price.
Tonewood Choices: While the maple back and sides provide a bright tone, they may not offer the warmth and depth some players prefer.
Size: The jumbo body size may be unwieldy or uncomfortable for some players, particularly those with a smaller build or those who prefer smaller guitars.
Versatility: Its bright, projecting sound might not be ideal for all music styles, particularly those requiring a darker, mellower tone.
Maintenance: As with all guitars with a solid top, it requires regular maintenance and careful handling, particularly in environments with fluctuating temperatures and humidity.
The Alvarez Yari FYM60HD Honduran is a limited edition acoustic guitar known for its exceptional craftsmanship and premium materials. With its solid Honduran mahogany top, back, and sides, and scalloped bracing, it delivers a warm and responsive tone that is highly sought after by discerning musicians.
Alright, let's talk about this guitar that's been making some waves, the Alvarez Yari FYM60HD Honduran. Picture this: it's a beautiful, full-bodied dreadnought guitar that's a favorite with many professional musicians. Why, you ask? Let me tell you.
First, it's got a top made from solid Honduran mahogany, which gives it a unique, rich tone. Now, imagine this guitar ringing out in a concert hall; it's got this warm, deep sound that really fills the space. That's because of its dreadnought shape. The larger body helps produce these big, resonant tones.
Then, there's its handcrafted construction. The folks at Alvarez really pay attention to detail. Each guitar is carefully assembled, and it shows. The finish is smooth and lustrous, the frets are perfectly aligned, and the overall quality is just top-notch.
Not to forget, this guitar has an LR Baggs Element pickup. That means it's not just an acoustic, but an electro-acoustic. So, whether you're strumming chords at a campfire or rocking out on a big stage, this guitar is ready to perform.
Sound Quality: The FYM60HD features a solid AA Sitka Spruce top and solid Honduran mahogany back and sides, promising a rich, warm, and balanced tone.
Construction: With a hand-finished, scalloped bracing system and dovetail neck joint, this guitar offers superior resonance and structural stability.
Playability: Its comfortable neck profile and balanced body make it easy and enjoyable to play.
Aesthetics: The natural gloss finish, herringbone purfling, and inlays give the guitar a high-end, classic look.
Tuners: High-quality, die-cast chrome tuners ensure stable tuning.
Price: This is a high-end model, so it may not fit all budgets.
Availability: As a specific model in the Masterworks series, it might not be as widely available as other Alvarez models.
Electronics: The FYM60HD is an acoustic guitar without built-in electronics, which may be a con for those who perform live or record often.
Maintenance: Like any other solid-wood guitar, it requires proper care and is more sensitive to changes in temperature and humidity.
Guitars – Which is Right For You?
When choosing the right Alvarez guitar, consider a couple of crucial factors: the shape of the guitar and the type of wood used in its construction. Both these things can really change how the guitar sounds and how it feels to play.
Guitar Shape
Let's talk about shape first. You've got all sorts of different shapes with Alvarez guitars. For example, you've got the big, bold AJ80CE Jumbo. This guitar has a huge sound that fills the room – it's perfect for when you want your guitar to be the star of the show. But maybe you want something a bit smaller and easier to handle, like the Alvarez Artist Elite AGFM80CEARSHB or the Alvarez Regent AF30. These guitars are a bit smaller, which makes them a great pick if you like fingerpicking or if you want a guitar that's easy to take on the road.
Tonewoods used in Alvarez Guitars
Now, let's talk about wood. We refer to the type of wood used to make a guitar as the "tonewood", and it significantly influences the guitar's sound. For instance, the Alvarez AD60, which features a solid Sitka spruce top, delivers a balanced sound suitable for various music styles. And it's got back and sides made of mahogany, which gives the sound a nice warm feel. But then you've got the Alvarez MG60CESHB, which is made from mahogany all over. This gives it a rich, warm sound that's just perfect for blues or folk music.
Then there's the Alvarez CC7 Cadiz, which has a cedar top that gives it a soft, mellow sound. This guitar is a great choice if you like to play slower, more emotional songs.
So you see, picking the right Alvarez guitar is all about thinking about what shape and wood fits with your style. Remember, there's no right or wrong choice here – just what feels and sounds best to you!
Alvarez Guitars Conclusion
So, there you have it! We've taken a close look at some truly awesome Alvarez guitars. From the big and bold sounds of the AJ80CE Jumbo to the balanced tones of the Alvarez AD60, there's an Alvarez guitar out there for everyone.
And let's not forget the Alvarez Artist Elite AGFM80CEARSHB and Alvarez Regent AF30 – these smaller models offer great playability and are perfect for those who love fingerpicking or need a travel-friendly guitar. If you're into blues or folk, the all-mahogany Alvarez MG60CESHB might be your perfect match with its rich, warm sound. And for those who prefer softer, more emotional tunes, the Alvarez CC7 Cadiz with its cedar top should be right up your alley.
Remember, choosing the right guitar is all about finding what fits your personal style and needs. Different shapes and woods can greatly impact the sound and feel of the guitar, so take your time to explore and find what works best for you. Whether you're a beginner or a seasoned player, Alvarez offers quality and variety at every level.